Victorian Christmas Card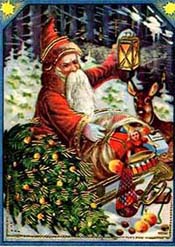 Since autumn is the time of the year we all start to think about the coming of Christmas I thought to take a little break from the manuscript each Friday and take the chance to include some of the more famous modern illustrations of St. Nicholas both as himself and in the guise of those jolly old gift-givers, Santa Claus, Father Christmas, Sinterklaas, etc. Even though the work which I am presenting in this blog, St. Nicholas and Christmas, explains in depth the life and times of the real Christian, Nicholas of Myra, and the real reason the 3rd and 4th c Bishop of Myra is so closely associated with Christmas, it doesn't mean that the modern images of the mythical characters he inspired have to be ignored; they only have to be shown in light of the real man. They are whimsical and part of our modern history and were never intended to make people forget the real St. Nicholas. Personally, I just love them!
Many years ago I came across a lovely book of illustrations called,
An Old-Fashioned Christmas In Illustration and Decoration
(Edited by Clarence P. Hornung) which I recommend to all who have an affinity for all things pertaining to St. Nicholas, Santa Claus and Christmas.
"The Coming of Santa Claus" by Thomas Nast 1872
Image courtesy:
An Old-Fashioned Christmas In Illustration and Decoration
(Edited by Clarence P. Hornung)
The above is one of my personal favorites. Note how the first thing Nast's Santa does is to greet the dogs and the cats. His hand is even upon the muzzle of one adoring dog! So sweet; a beautiful modern work of art.
Merry Old Santa Claus
Thomas Nast
Harper's Weekly January 1, 1881
And this drawing of Nast's Merry old Santa Claus is a happiness-giving classic.

Thanks for permitting me this interlude - I promise to return each Monday and Wednesday with two more postings from my book, St. Nicholas and Christmas!
Let me take the chance here though to thank you all for your generous comments and emails and for following along with me on this journey into the life and times of the real Bishop of Myra. You really make my day!
P.S. Please let me know if there are any drawings or cards you would like to see represented in my "Friday's Interlude" sections during this run up period to the Christmas Season! I'd love to include them. Also, I'd love to hear how "Santa Claus" and St. Nicholas are actually called in your country (I'll link it to your site!). Books and articles on Santa Claus give names but often, I have found that they are quite different from actual use.